WELCOME TO CATHERINE MEESON SHOP & BANDCAMP STORE

PLEASE CLICK ON THE LINKS TO PREVIEW THE WORK AND PURCHASE DISCOGRAPHY
'REVOLUTION COMPLETE' 2011 Debut electro acoustic/ electronica ten track album
'ORIENTAL TEMPLE GARDENS COMPLEX'-  2013 Ambient Soundscapefeaturing Tibetan bowls, gongs, ting sha and nature sounds with synthesizers 22min
'JOURNEYS THROUGH THE TIMELINE' – Single off ATMOSPHERICA Electronic
'ATMOSPHERICA ALBUM'- 2014 11 track album of ethereal electro songs and instrumentals
'RAINBOW BRIDGE'- (ACROSS THE DEEP BLUE OCEAN)-Ethereal electro folk rock single off Contemplating Buddha album 
'CONTEMPLATING BUDDHA'- 2016 12 track album of ethereal electro, neo psychadelic & electro folk rock 
I AM (SONG OF THE EARTH) – Ethereal electro orchestral epic anthem
MR BIG MAN- Electro folk punk rock – single
THE CALL OF OMA- Electro orchestral/ electro classical concept album
BOAT ON A RIVER Psychedelic ambient rock 
OTHER DIGITAL PLATFORMS
Revolution Complete, Contemplating Buddha, I Am (Song of the Earth) and Mr big Man are available on other digital platforms only Revolution Complete is stream-able. Atmospherica and Oriental Temple Gardens complex can only be found on Bandcamp.
GOOGLE PLAY
https://play.google.com/store/music/album/Catherine_Meeson_Contemplating_Buddha?id=Bgchr566mzlxgjdgvpyfrvpvcvu&hl=en
ITUNES
https://itunes.apple.com/au/album/contemplating-buddha/id1089936418
---
PHYSICAL PRODUCT DVDS
BEGGAR WOMAN WALKS BY THE WATERS MOVIE mp4 dvd
The Beggar Woman is an 'archetypal old wise woman',beggar prophetess full of provocative musings about the world. Join her as she forages about the countryside for food, sharing her thoughts with us, reflections on environment, futures and the lived reality of our times. Narrated and minimally scored this site specific and improvised performance art work was created by Catherine Meeson. MP4 dvd movie only. Available by mail order $20 Aus via pay pal.
       STUDIO SESSIONS DVD- THE MAKING OF ATMOSPHERICA AND CONTEMPLATING BUDDHA ALBUMS mp4dvd
Come on a journey through the studio sessions  and vocal takes with me over a few years musing about my work and creative process and talking about the birth of Sonic Sanctuary at the end- Music with a conscious musical ethos.  MP4 dvd movie only. Available by mail order $25 Aus via pay pal.
---
LIMITED EDITION CD'S
Revolution Complete my first album mostly electronic and soundscape some electro acoustic elements and a little voice. Released 2011. Limited edition mail order $20 Aus  plus postage via paypal.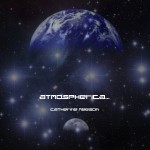 Atmospherica My second electro acoustic album crossing many stylistic boundaries. Half songs half soundscapes. Released 2014 Limited edition Mail order $20 Aus plus postage via paypal.
Oriental Temple Gardens Complex  2013 Honours Composition 22 minutes EP length- Award winning work. Ambient Soundscape / new age therapeutic music Made to order mail order $10 plus postage via paypal.
Contemplating Buddha 2016 12 track album of ethereal, neo psychedelic & electro folk rock. Half songs half instrumentals. Limited edition gatefold cd mail order $20 plus postage via paypal.
---
ORIGINAL GEOMETRIC PAINTINGS GALLERY FOR SALE
[/cryout-column]
---
Stellar-ium 10 x 10cm $60 Aus acrylic